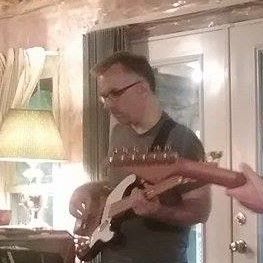 DALE BASSHAM (2015-2018)
When original bassist Mike Barnes suffered a debilitating stroke just weeks after the band formed, the band members turned to worhsip-based guitarist/bassist Chris "Dale" Bassham to fill in on the four-string. Dale performed admirably in his stead, contributing rock-solid bottom end to the band's "American Sampler" EP. Dale's bass work can be heard on the "Sampler" tracks that formed part of the band's eponymous CD. 
Dale left Crooked Cane in 2018, to pursue a work opportunity in Minnesota. It was a privilege to play alongside Dale for the three years he spent with us. We thank him for his contributions, and we wish him all the best.