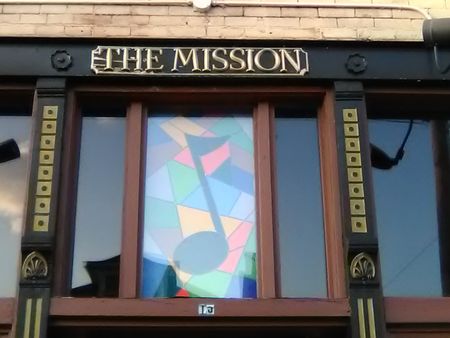 Last Wednesday at my job, I got a terse message from my good friend and fellow VA doc Carlos Sanchez (yes, the same Carlos Sanchez who lays down th beat for BURIED). The news was both a surprise and a disappointment...Our Friday gig with BURIED and Broken Suns of Karma was no more, the casualty of the sudden and unexpected closing of The Bridge where we had been booked to play. Being that I was at work, I had tasks to complete and no time to follow up...
But by the time I got a break to see what was going on...
GIG BACK ON!!!
When James from BSOK heard of the Bridge's closing, he reached out to his friends right around the corner at The Mission to see if we could possibly schedule our show there at another time. But as fate would have it, The Mission had Friday OPEN!! Jenny was more than happy to welcome BSOK, BURIED, and ourselves down to put on theshow we had worked so hard to prepare. So the invasion of Jefferson city was SAVED!!!
Friday night, the place was packed with friends and fans of all three bands. We had a great time playing for the full house. BURIED followed us to the stage, and laid down their heavy grooves to the delight of the crowd. And then it was time for BSOK...
DAYUM....
This was my first time hearing BSOK, and I was BLOWN AWAY!!! Those dudes are tight, their songs are infectious and fun, and every man is an ace on his instrument. The band was as gracious as they were good, and they couldn't have been more complimentary and helpful. So not only did they save the show in the first place, but they also made it a show to remember. Everyone who came to the Mission last Friday got to see a great bill from beginning to end. 
A million thanks to Chris, James, and Scott for BSOK for a GREAT show, their graciousness, and for saving the gig! Thanks once again to the guys from BURIED, for the monster set they laid down, and for their ongoing support of our efforts. I want to personally thank my bandmates for all their hard work, and for their brotherhood. Thanks to Jenny and everyone at The Mission for having us on such short notice, and we hope to get back there soon! And last but certainly not least, a great big HUGE thank you to all the great friends and fans who made the trip to JC to see us on Friday! Getting to put our music out there in front of all of you is what we do it for, and to have you show up in force and rock the house with us is what it's all about!
HOPE TO SEE YOU ALL AGAIN SOON!!!